Castello di Brolio
Brolio Castle near Gaiole in Chianti, Tuscany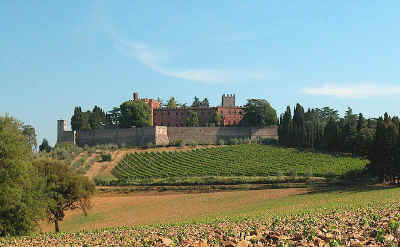 The Castello di Brolio
One of the most unusual castles near Gaiole is Brolio Castle which, although of very ancient origin, is architecturally comparatively recent and unique in the area. The castle is a 19 C neo-gothic creation of Baron Ricasoli, the famous Risorgamento politician and formulator of the blend of Tuscan grape varietals that defined Chianti Classico wine for over 150 years. The castle still belongs to the Ricasoli family and produces a reputable wine from the large areas of vineyard that surround the castle on every side. The castle may also be visited - gardens and ramparts free, parts of the interior by ticket. Tours of the winery with a wine tasting are also offered. There are magnificent views as far as Siena from the castle bastions.
Back to Gaiole in Chianti.
Gaiole in Chianti. All content and code © ammonet InfoTech 2005 - 2020. All rights reserved.