Gaiole Tuscany Tourist Information
Where to stay and what to see in Gaiole in Chianti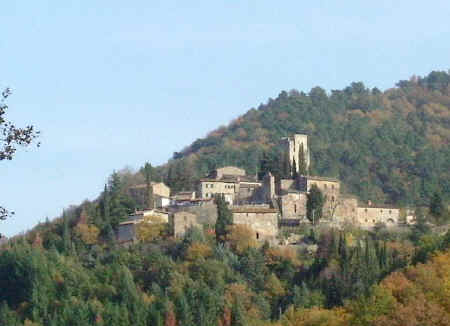 The Castello di Barbischio above Gaiole in Chianti, Tuscany, Italy
The small Tuscan town of Gaiole in Chianti lies in the Chianti Castles territory to the east of the Via Chiantigiana in the Chianti Classico wine zone of Tuscany, Italy (map of Chianti). The area is hilly, with extensive forests of oak and chestnut, and vineyards and olive groves surrounding the towns and villages. Wild animals, including game species such as wild boar and deer, as well as porcini mushrooms, abound in the forests. In addition to the numerous castles, of which one of the most famous is the Castello di Brolio, and another the Castello di Meleto, there are some extremely old and interesting churches and abbeys to be visited. Some of the churches date back to mediaeval times, in particular the untouched romanesque parish churches, such as the nearby Pieve di Spaltenna. Among the former abbeys in the area, the most famous and photogenic is Badia a Colitbuono and its restored classical Italian garden. Among the nearby towns and villages of interest are Volpaia, a village now almost entirely given over to wine production and home to several good restaurants, and Radda in Chianti and its unique Palazzo del Podestà.
Click here for more vacation accommodation near Gaiole in Chianti.
Gaiole in Chianti. All content and code © ammonet InfoTech 2005 - 2020. All rights reserved.